Assignment -
This is a short, hands-on investigation into people's intrinsic motivations to explore and gain insight when encountering constellations of objects, signs, interfaces in everyday spaces. Use combinations of hi- and low- tech objects, materials, devices to create an interactive trap in everyday places in and around Art Center.
Concept -
The Talking Vanity Mirror is an experimental design research to investigate what factors make people to engage in designed objects and how people react to interactive systems. To create a trap, we decided to use a mirror because a mirror is an object that intrigues people to look at themselves. We made a fancy looking mirror and engraved "YOU ARE ____." on the mirror. When people approach the mirror, a positive or negative phrase for the blank part of the sentence on the mirror plays randomly.
Negative answers
- You are passible as a human being.
- You are in dire need of plastic surgery.
- You are mean looking.
Positive answers
- You are looking great today.
- You are cute.
- You are sexy.
The first test
We designed a small mirror, and installed it on an undecorated place. And we used a motion detecting sensor to trigger the sound, and hide two cameras behind and in front of the mirror to record reactions of people.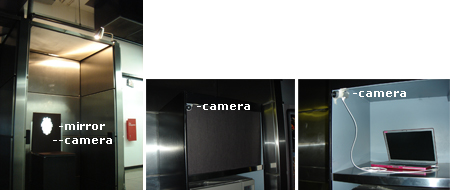 Result
Since we did not decorated the space, it was hard to make people stop by and interact with the mirror. The motion detected sensor was noticeable, and the sound was inappropriate. Therefore, people tended not to interact nor engage with the mirror.
The second test
From the first test, we found out that in order to intrigue and lure people to the trap, appropriate decoration for the space is very important. Also, to engender interaction from people, we decided to add more content to the sound, strengthening the relationship between vanity and mirror. We used a proximity sensor as the controller that triggered the sound.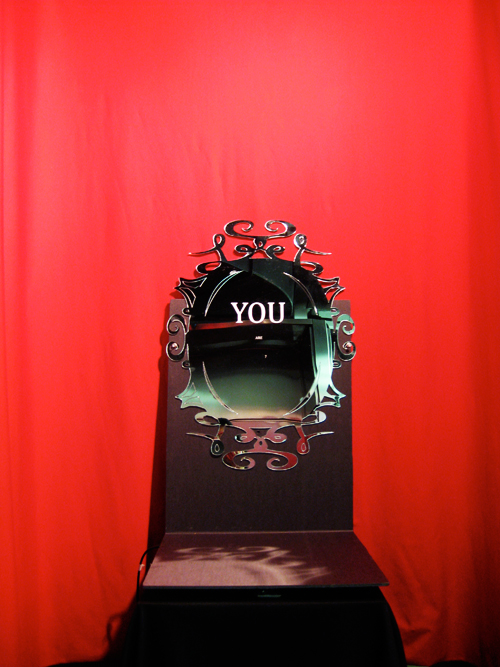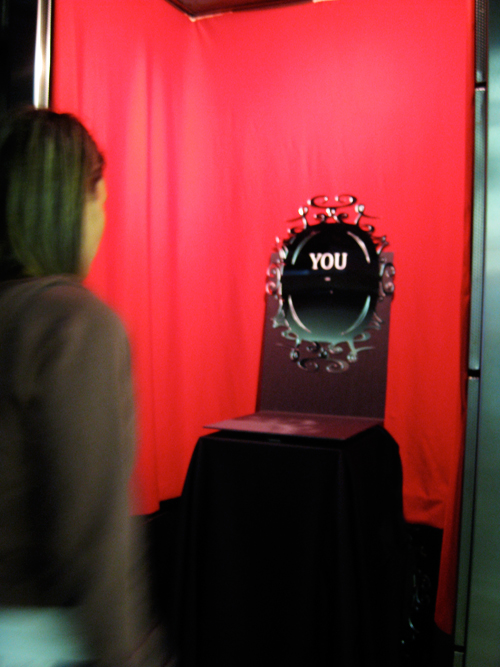 Result
The result was much more successful than the first test. Since we decorated the space and had a bigger and fancier looking mirror, people were more curious about the project and wanted to interact with it. Even if they got a negative answer from the mirror, they really laughed louder and interacted with it more to get a positive answer. Although people knew that the sounds were generated from a sensor, it seemed that they believed the mirror as a magic mirror.
The third test
After the second test, we wanted to see how people will react if an inharmonious sound is playing around the space. Since the space looked fairy tale-like and feminine, we created a mechanic sound and let it play all the time around the space.
Result
Even though the space looked exactly the same and the answers were the same as the second test, people reacted differently compared to the second test. People did not laugh like the second test, and it seemed that they took this installation very seriously.