This features an interview and showcases the work of young car designers. Too often, fresh ideas get lost in the bureaucratic mess of transportation design. The Creative Director at the studio gets most of the credit while the young designer slaves away at his/her cubicle, unknown to the world. This section provides a chance for the new kid on the block to show his/her work. Some of the concept designs, progressive and passionate, would otherwise not see the light of day. I interviewed Julius Bernardo, a recent graduate of Art Center in Transportation Design, about cars and the future of sustainable mobility. I also featured his concept Tesla four-door electric sports car. Bringing out innovative ideas through interviews and green concept cars is important to spark new conversations. As readers get more acquainted with the thinking of young eco-car designers, they will find new respect for these electric/hybrid cars.

______________________________________________________________________________

©2010 Yee Chan & Art Center College of Design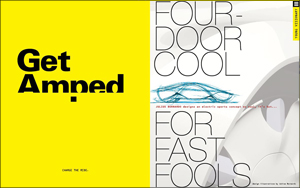 This concept was sketched and rendered before the Model S became public.