Enthusiasts enjoy tinkering with the mechanical complexity of the motor. Through research of sports car
clubs and attendance of the LA Auto Show 2008, I find that people are drawn to motor design. Car people
were attracted like bees to honey at the latest Porsche display of its venerable Flat 6 motor. In contrast,
most automotive reviews mention the 6831 laptop batteries in the Tesla, a huge disconnect. How can we
lust for a car when the only thing interesting about it is the laptop batteries? Expert automobile planner,
Eric Noble states, "Talking about the batteries in an electric car is like praising the gas tank in an internal combustion car."

Therefore, an article was designed that spoke about the efficient virtues of the electric motor. This feature
educates the reader about the powerful, efficient, and reliable AC motor. Its goal is to convince readers that
the electric motor is superior to the internal combustion engine in every way. The AC Propulsion electric
motor weighs about 75lbs, can rev to 14,000 rpm, and has only one moving part. When the machine gets
respect, it will lead to desire, and eventually be a catalyst for a following surrounding it. Enthusiasts must
also understand the simplicity of the electric motor, and find ways to tinker with it to increase performance.
Is there a possibility of people drooling over a display of an electric performance motor one day? I certainly
think so, and OBJECTS OF DESIRE is there to show us in advance.

______________________________________________________________________________

©2010 Yee Chan & Art Center College of Design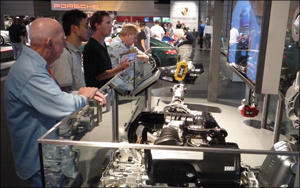 LA Auto Show 08
Enthusiasts, young and old are drooling over
the latest Porsche Flat 6 motor. They need to have
the same passion for the electric motor, which
is actually superior in many ways.