Probes are designed pieces of inquiry structured to gain insight from respondents.
They assist the designer to spark a conversation, document insights, and inspire further
design. Visually designed probes provides a context to gather information in the research
process. Probes provide insights not easily extracted from interviews. They focus
on specific user experience and are usually qualitative in nature because they are
often open-ended.

Exploratory in nature, probes frames the questions to provide inspiration toward design. The completed probes itself is a work of visual design, offering viewpoints to the imagination, emotion and aesthetics of the participant. The Future Probe looks at history to speculate on the future. The Geek and Chic Probe begins with a visual rating system and leads to conversations about car design. The Sound Probe examines the emotional attachment to engine sounds. These are necessary to provide a unique perspective on enthusiasts and green cars. They fuel the feature articles of ELECTRON.

Future Probe
Inspired by my research of electric-powered sports car history, I designed a poster (3x8ft) showing the time line of electric-powered cars and exhibited this on the student union at Art Center College of Design. Next to the poster, I invited viewers to write their opinion on a sticker regarding what they think might happen to electric-powered cars in the future. The objective is to spark conversation about the future of electric cars from spectators who take the time to read the poster. Some findings were that people want a well-engineered EV car that is beautiful and have an identity that originates from gas cars, but they are skeptical. They claim there are still many limitations to battery technology. People want the technology to be open source, which will make it easier to understand. This inspired me to think about the technology and how it must be understood first before it is accepted. The feature article, OBJECTS OF DESIRE, was inspired by this probe.

Geek and Chic Probe
Inspired by the interview with Rex Parker, I set out to discover how car enthusiasts rate car design. Every Saturday morning, a group of car enthusiasts congregate at the UA lot and admire each other's cars. I took a large black board and hung it at the UA theatre in La Canada. I asked enthusiasts to put pictures of cars on the board containing a scale of 1-10, 1 being geek and 10 being chic. Included in the rating system are hybrids, hydrogen, full EV, I.C.E. cars, concept cars, super cars, and known sports cars. The importance of this was to start a dialogue, not just ranking of the black board. Enthusiasts liked quirky cars, but when asked if they would buy it were hesitant. The shape they preferred depended on their personal experiences. Ben, a retired Air Force pilot, favors cars that more resembled streamlined jets. Hybrid cars and electric cars were generally labeled near the geek area. Overall interest towards hybrid and EV car design was not favorable. These insights further cemented my understanding of the disconnect between enthusiasts and hybrid/electric cars. Insights gathered from this probe inspired the feature article BUILD THIS CAR OR DIE.
The Sound Probe
With Ryan Hur, the hardcore car enthusiast, I conducted a sound experiment. I played five different engine sounds: V8 Mustang, Turbo Supra, Tesla (EV Car), Boeing 747, and Honda Civic. I asked the question: WHAT SOUND EMOTIONALLY RESONATES WITH YOU? The language he used to describe the sounds was SCREAMS, and CLEAN. I realized that there is potential to invent new vocabulary for electric-powered cars. As a result, this inspired my new lexicons for the electric-powered car drive ELECTRICONS, a new language for the eco-enthusiast.


______________________________________________________________________________

©2010 Yee Chan & Art Center College of Design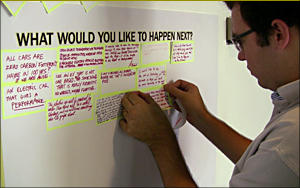 Future Probe
Participants write what they think happen and what
they would like to have happen in the future of the
electric powered automobile.