---
Working with an organization whose mission focuses on helping animals was intentional. The hope was since animals can't speak it would be easier to focus on the volunteers in the group instead of who they serve.
While I was filming the volunteers treated me as a participant instead of an observer.
I don't want to provide solutions on my own. I want to work with the group to find solutions together.
When media is intentionally raw the response and reflection are more candid.
Empathy helps people better understand consequences in two ways: They anticipate the effects of their actions on others, and experience the emotions of others.
Use information such as trends, comparisons, and accepted standards to inspire people toward outcomes that they themselves can believe in.
Reflecting on actions through media can provide an immediate and direct impact on an organization through a change in mindset.

---

Media is a useful tool to be used for reflection within an organization. Initially I approached the non-profit with the thought that I could help them by filling a role of media designer. Designers by nature think outside of reality to propose alternative approaches to problems. What I learned in working with this group of women at the dog rescue is that I need to be involved in their reality before making suggestions for change. I also quickly figured out that I have much more to learn from them than the other way around. Learning first hand how much more rich media and design can become when the designer has direct extended contact with the group they are working was monumental.
Trends, comparisons, and accepted standards that were seen all help to inspire the people within the organization toward outcomes that they themselves can believe in and start to pursue. This was one of the most exciting parts of this project because it helped the organization to move forward with a fresh eye and renewed approach to their practice. The media reflection has been helpful with the rescue seeing new possibilities that media and design can offer them. They are able to see the value and how it has changed and influenced their behavior and practice. The media designer played a key role by they providing their own insight and suggestions. Whether or not the group did or didn't like the suggestions didn't matter. Either way it sparked discussions and assisted them in starting to approach changes they may want to investigate or implement in the future.
The future involves designers making more informed and relevant design solutions. Designers are going to need to be exposed directly to the people they are designing for, and gather information from these people to make truly successful design. We have the ability to influence culture and we need to use that power by making informed and aware design decisions. Unless designers grasp the significance of the projects we create, our work can lead to harm. Designers provide organizations with actionable insights that can lead to meaningful and sustainable behavioral change over time.
back to top


Installation
The intention behind the design of installation for Media for Advocacy was to break my research down into four categories. Action, Questions, Concerns and Insights. Each category described my thoughts, feelings and discoveries that I encountered during the process. Though text, image and video the person who enters the installation can relive my experience and leave with insights and questions of their own.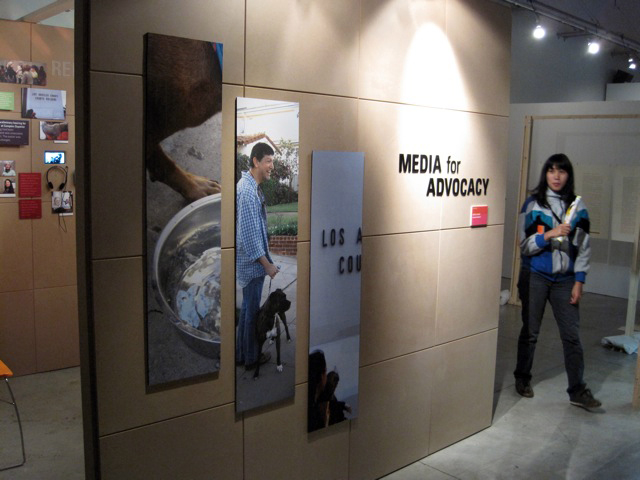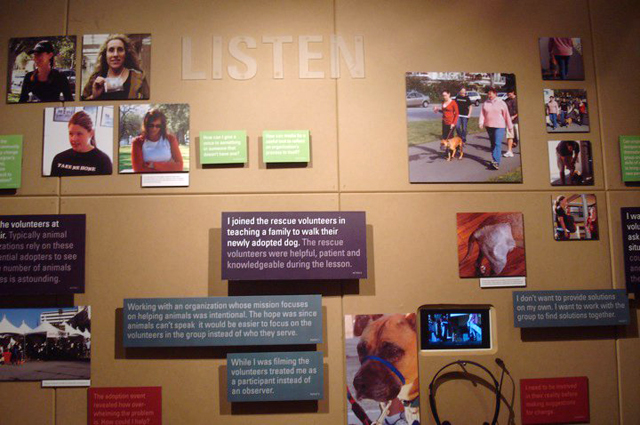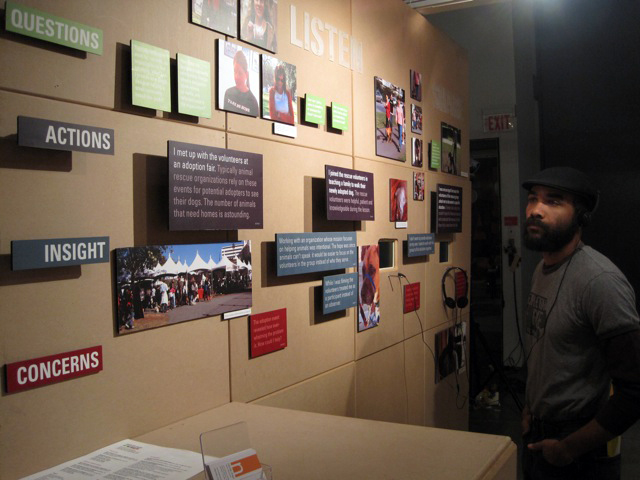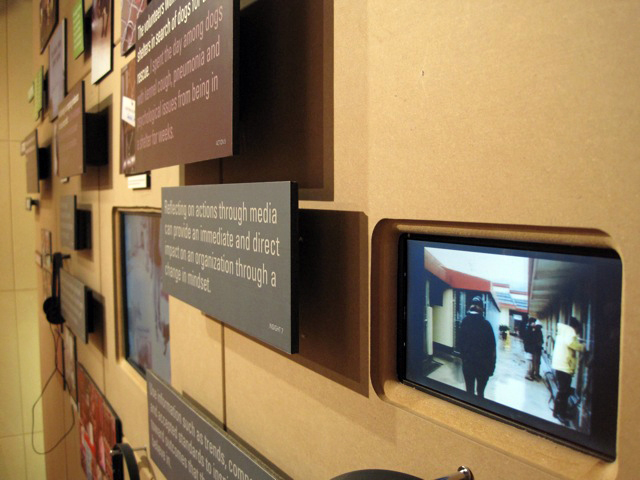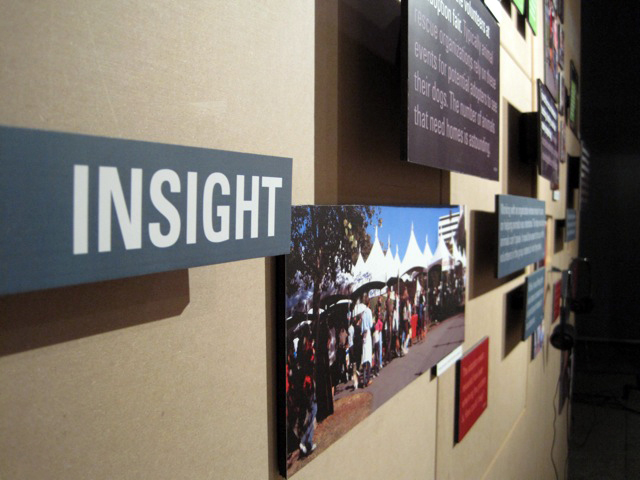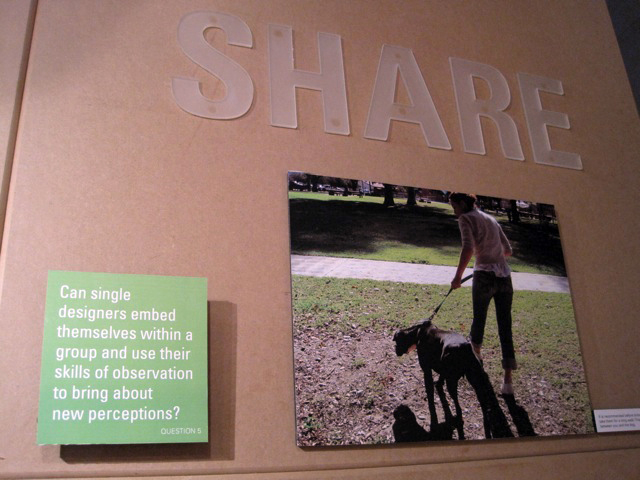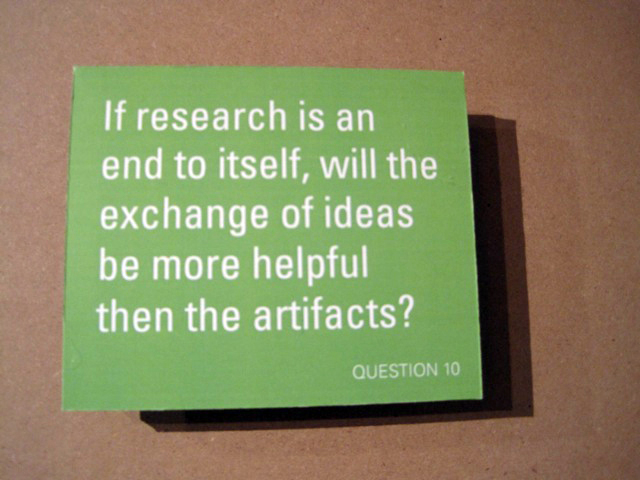 back to top


Bibliography

Tim Brown,

Change By Design

(HarperCollins, 2009).

Cecilia, "Victor Papanek,"

Design History Mashup

, November 24, 2008,
http://designhistorymashup.blogspot.com/2008/11/victor-papanek.html.
Dalton Conley,

Elsewhere, USA

(Random House, 2009).

Brenda Laurel and Peter Lunenfeld,

Design Research: Methods and Perspectives

(The MIT Press, 2003).

James Surowiecki,

The Wisdom of Crowds

(Doubleday, 2004).

"Social Impact - Focus - Thinking - IDEO," http://www.ideo.com/thinking/focus/social-impact/.
"Project H Design | About Us - Manifest," http://projecthdesign.org/about/manifesto.html.
"Putting Farmers Needs at the Center of Design-What We're Learning - Bill & Melinda Gates Foundation," http://www.gatesfoundation.org/learning/Pages/agriculture-human-centered-
design-toolkit-ideo.aspx.
"Martin Fisher - Kickstart - Social Edge," http://www.socialedge.org/blogs/global-x/archive/2008/04/29/martin-fischer/.
"Social Impact - Focus - Thinking - IDEO," http://www.ideo.com/thinking/focus/social-impact/.
"Adobe - tutorial: Telling stories using data: An interview with Jonathan Harris,"
http://www.adobe.com/designcenter/thinktank/danzico2.html.
"Social Software: The Other 'Design for Social Impact,' by Gentry Underwood - Core77," http://www.core77.com/blog/featured_items/social_software_the_other_design_for_
social_impact_by_gentry_underwood_15039.asp.
"A Designer Takes on His Biggest Challenge Ever | Fast Company,"
http://www.fastcompany.com/magazine/132/a-designer-takes-on-his-biggest-challenge-ever.html.
"Day Laborers In South Los Angeles - Intersections: The South Los Angeles Reporting Project," http://blogs.uscannenberg.org/intersections/2009/02/day-laborers-in-south-los-ange.html.
"Eric Blue's Blog: The Power and Beauty of Data Visualization,"
http://eric-blue.com/2006/10/04/dataesthetics-the-power-and-beauty-of-data-visualization/.
"The Best Tools for Visualization," http://www.readwriteweb.com/archives/the_best_tools_for_visualization.php.
"Design with Intent - design mind on GOOD - GOOD," http://www.good.is/post/Design-with-Intent/.
"Meacham: Obama, Faulkner, and the Uses of Tragedy - Jon Meacham - Newsweek.com," http://www.newsweek.com/id/226480.
"The Kindness of Strangers: Change Observer: Design Observer,"
http://changeobserver.designobserver.com/entry.html?entry=11177.
"The Road to Wellville: Change Observer: Design Observer,"
http://changeobserver.designobserver.com/entry.html?entry=12267.
"Come on, designers. Step up - BusinessWeek,"
http://www.businessweek.com/innovate/next/archives/2009/12/come_on_designe.html.
"War Is Over! If You Want It: Observatory: Design Observer,"
http://observatory.designobserver.com/entry.html?entry=5087.
"Business Innovation & Design - BusinessWeek," http://www.businessweek.com/innovation/.
"Why We Should Teach Design Early - design mind on GOOD - GOOD,"
http://www.good.is/post/why-we-should-teach-design-early/.
"Come on, designers. Step up - BusinessWeek," http://www.businessweek.com/innovate/next/archives/2009/12/come_on_designe.html.
"First Things First 2000 manifesto - Wikipedia, the free encyclopedia,"
http://en.wikipedia.org/wiki/First_Things_First_2000_manifesto.
"The Designers Accord," http://www.designersaccord.org/.
"Multicultural Critical Theory. At Business School? - NYTimes.com," http://www.nytimes.com/2010/01/10/business/10mba.html?pagewanted=1.
"How Long Will It Last? Infographic (Armin Reller & Tom Graedel) | Infographics Blog,"
http://www.infographicsblog.com/how-long-will-it-last-armin-reller-tom-graedel/.
"Millennial Predictions for the Next Decade | Social Citizens Blog,"
http://www.socialcitizens.org/blog/millennial-predictions-next-decade.
"Why Design Won't Save the World: Observatory: Design Observer,"
http://observatory.designobserver.com/entry.html?entry=5777.
"Design for the Next Billion Customers, by Niti Bhan and Dave Tait - Core77," http://www.core77.com/blog/featured_items/design_for_the_next_billion_
customers_by_niti_bhan_and_dave_tait_9368.asp.
"To Hell with Good Intentions by Ivan Illich," http://www.swaraj.org/illich_hell.htm.
"We Are All Emerging Economies Now : Observatory: Design Observer,"
http://observatory.designobserver.com/entry.html?entry=6947.
"gladwell dot com - million-dollar murray,"
http://www.gladwell.com/2006/2006_02_13_a_murray.html.
"Prepared for Haiti: Change Observer: Design Observer,"
http://changeobserver.designobserver.com/entry.html?entry=12567.
"Goodbye I, Hello We: The Decade of Interdependence | Networked Culture | Fast Company,"
http://www.fastcompany.com/blog/valerie-casey/networked-culture/design-firms-and-interdependency-next-decade.
"Design - When More Is Decidedly Less - NYTimes.com," http://www.nytimes.com/2010/01/25/arts/25iht-design25.html?ref=design.
"Seth's Blog: In between frames," http://sethgodin.typepad.com/seths_blog/2010/01/in-between-frames.html?utm_source=feedburner&utm_medium=feed&utm_campaign=Feed%3A+typepad%2
Fsethsmainblog+%28Seth%27s+Blog%29.
"Going Public: Participatory Action Research as Object and Method of Teaching Sociology and Transforming Communities authored by Scott, Greg., Sandoval, Juan., Stall, Susan. and Trillo, Alex.," http://www.allacademic.com//meta/p_mla_apa_research_citation/1/0/9/7/0/pages109706/p109706-10.php.

back to top