quickread
About
Project quickread is the brain child of a small team of media design students... who just happen to have an obsessive interest in the dynamic aspects of the written and spoken languages.
Pulling from backgrouds in landscape architecture, architecture, and motion graphics, the team strove to create an interactive book that could engage the user with the environment that surrounds him.
Contact
Links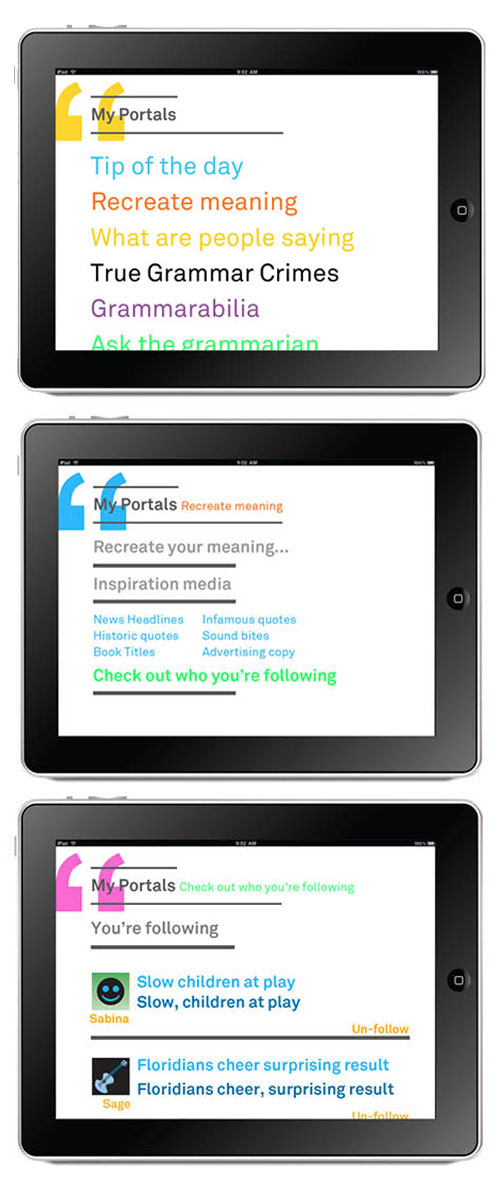 Images courtesy of Will Frohn
All of the grammar and language ebooks that Will found were simply digital conversions of traditional books. Existing language ebooks miss the affordances that digital technology has to offer. Will was especially inspired by one particular convention that inkling uses for their ebooks. The basic idea is to utilize social networks for learning. He felt like the aspect of social interactions was a key component that has been void in e-learning. There is something missing when we merely read textbooks, and lack have the interaction of the classroom. Will saw the ebook was a great opportunity for developing some interesting typography and systems for hierarchy and navigation.