We are living

on a fragile blue dot.
Basics of Interplanetary Flight



ArtCenter Extension • ArtCenter College of Design
ACN-078W-01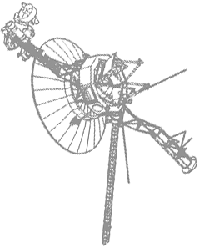 How interplanetary exploration works, right up close.
The only prerequisite is curiosity.
Participants come from all walks of life.
What about the math? See below.
We won't be having a class this 2022 summer semester.
But it's because of construction in our building this time, not because of pandemic. Our classroom is getting MUCH better acoustics, and the latest tech improvements. That's a good reason. And it's going to make our next in-person meetings all that much better. So...
Please mark your calendar and plan to join us for a really awesome 2023 summer session.
Among the many hot topics:
What does it really mean for JWST to be "orbiting L2"?
Current spacecraft capable of identifying fossil and/or extant life in our solar system.
What components will you put in your cubesat?
I'm looking forward to seeing you then! --Dave

Next year's Registration will open
April, 2023


About the course

It's an interactive, high-fidelity survey of disciplines and projects in today's interplanetary flight. It involves the participants in a variety of techniques, including visuals, design-based learning, hands-on physics, brainstorming, lecture, demonstrations, and guest speakers. No credit means no tests, no mandatory assignments.

We generally divide each of our three-hour meetings into developing three lines of inquiry:
Grasping each of the major factors in the whole environment in which we live and in which we operate interplanetary robots (this environment can be concisely described as the space among the many companions of a dwarf star in a bubble, orbiting a supermassive black hole at the center of one of many galaxies); Understanding how such a description is obtained and interpreted.

Learning how spacecraft are designed and put together, what all their components do, how they move and work, the paths they follow, and why;

Surveying the results; seeing and experiencing new worlds while they are being encountered.
Here's Dave talking about the course with Mat Kaplan on Planetary Radio.
Here's a link to the school calendar.
Seven consecutive Thursdays 7-10 pm
Twelve participants total (age 18 min)
Okay, maybe one or two more...

Map to South Campus
About the instructor
Questions? Please email Dave

Please spread the word among friends and family who are interested in planetary exploration!
Except during the summer session, you'll see a note that the spring and fall sessions are cancelled; that's because it's only offered during the summer terms. The course is only visible after registration opens for the summer.
Find the course on this page after registration has opened.
Scroll down to "Search Courses" and do a search for INTERPLANETARY.
To register online, see the "Register" menu at the top of the calendar, scroll to Summer Session.
Or download and fill out this PDF Registration Form.
First class meeting is Thursday evening May TBS, 2023
There are a total of seven Thursday-evening sessions.
Late Registration Fee applies on and after: May TBS, 2023.
Scholarship Deadline is April TBS, 2023.
For registering in person: South Campus, 950 S. Raymond Ave., Office hours are posted here. Office phone 626.396.2319, fax 626.396.4219.

Tuition and Discounts:
Tuition is $350 (or as updated in the ArtCenter Catalog)
Substantial discounts are offered to teachers, seniors, ACCD grads, veterans, and others;
visit this page for information.
ArtCenter kindly offers members of The Planetary Society a 25% discount. When registering in person, bring evidence of TPS membership (address imprint on The Planetary Report suffices). Fill out and bring a PDF Registration Form.
Texts for the course

By course instructor Dave Doody:

JPL's free online Basics of Space Flight Tutorial

Optional book (Springer-Praxis 2009, hardcover or paperback) written with participants of this course in mind. This textbook is part of Springer's Astronautical Engineering series, so it doesn't avoid the math. It has a full-color cover, and is printed on acid-free paper: in other words, it's expensive. But it's well worth it!

Optional paperback book, Basics of Space Flight created from the contents of the JPL Basics website. Available in a full color edition, and a low-cost black & white edition. This book does not cover as much technical detail as the above title. It does contain good reference material, and should serve well in class. This book is produced by Amazon Print-on-Demand, and is much less expensive than the above. The entire book is also available as a PDF, free of charge, for use on some portable devices. If you'd like to download the 20 MB file, go to the JPL Basics website; you'll see the "Download" icon in the lower left corner.

Instructor's notes:
You don't have to know the first thing about space flight to participate fully in this class. All you have to be is curious about how humans are exploring the universe today, and what is being found.

If you have a web-enabled phone or other device, bring it along, it will come in handy. There's wireless internet access in the classroom, of course.

Is there a lot of Math? Many people are looking for in-depth mathematical treatment. Most, though, say they'd rather not have a lot of math. In our classroom sessions, you probably won't notice much math at all. But you'll find you can go as far as you want in the optional book Deep Space Craft (Springer, 2009), which I wrote for participants who want to follow its more technical content and references. So far now, this has worked out to be an effective balance.

— Dave
---
Comments from previous course participants
"One of the best courses I have taken in my past eight years of college courses."

"This class offers a unique and unparalleled opportunity to explore and learn about a very exciting field of study that offers much to draw upon."

"The many ingenious demonstrations of abstract concepts was a treasure trove."

"This class really does two things: teaches the concepts, but also is a survey of how to communicate difficult material of any field."

"I was having too much fun for the course to end."
---

We live on a rare and fragile life-sustaining planet, the companion of an average star orbiting a spiral galaxy's central black hole. After a history rooted in deep time, we have just acquired new senses, many of them developed for space exploration. How do these new senses work? What are they telling us? How are we affected by the ability to see and hear in radio "light"? The infra-red? Ultra-violet? Gamma radiation? Gravitational waves?
Lately we are encountering new worlds with our new senses. And we humans are in the extraordinary position today to be seeing some of these places up close for the first time ever, via humanity's robot emissaries.
Mars used to have water. Can we find fossils of ancient lifeforms there? The moons Europa and Enceladus, and maybe other places, have warm saltwater oceans. Could they be swimming with life right now?
How do you design a robot spacecraft and travel among the planets? How do you fly it and tell it what to do? What information is it sending back?
If you find these topics compelling, please join us for seven consecutive Thursday evenings at the inspiring ArtCenter College of Design South Campus at Raymond & Glenarm in Pasadena.
Do you know anyone else who might be interested?
---
About the Instructor (See also here.)
After serving in the U.S. Air Force, Dave Doody worked as an instructor for Japan Air Lines teaching flight procedures, navigation, systems, and stuff to Captains and First Officers of JAL. At the same time, he led an instructional systems development effort at the JAL flight crew training center creating graphics, computer and photo laboratories, which produced system simulators, teaching methods and materials, and learning facilities. This was up through 1980 while living aboard a sailboat.

Having landed at Catalina Island after sailing the coast, Dave worked as a systems engineer there for three years before joining the NASA-JPL Deep Space Network in Pasadena, creating instructional systems and training materials for operators of the spacecraft-communications systems.

On completion of the Deep Space Network contract, Dave got his master's degree and then went to work on the NASA Voyager mission flight operations team while Voyager 2 cruised outward from Saturn to encounter Uranus and Neptune. Flight ops engineering on Magellan, the Venus mapper, then led to the same field of work on the Cassini-Huygens mission to Saturn and Titan from 1994 to 2018, as a senior engineer with Caltech/JPL. Dave is a Technical Group Leader, and working on the Mars 2020 Perseverance Mission, the Psyche Mission to a metal asteroid, and the Europa Clipper Mission, which will launch in 2024.

All during the Voyager, Magellan, and Cassini mission operations, Dave has also been publishing in the technical and popular literature, teaching short courses, and speaking in public about space-flight related subjects.

Dave is also proprietor of SCI / Space Craft International (established as a partnership in 1987). Known on the web as SpacecraftKits.com, it produces low-cost educational scale model kits of space exploring machines, and fully-3D-printed versions available from Shapeways. Another one of SCI's product lines is Blüroof Press.

Once in a while you can find Dave playing sidewalk astronomer in Pasadena, offering free telescope views of the planets to passers-by, especially when Jupiter or Saturn are conveniently high in the evening sky, no matter the streetlights.
---
ArtCenter College of Design South Campus
950 SOUTH RAYMOND AVENUE, PASADENA CA 91105
BE CAREFUL NAVIGATING RAYMOND AVE!
950 IS ONE OF SEVERAL ARTCENTER BUILDINGS NEARBY.
Our building and its parking lot form the NE corner of Raymond and Glenarm. It's west of the Metro tracks, and north of the 110 Freeway'e end.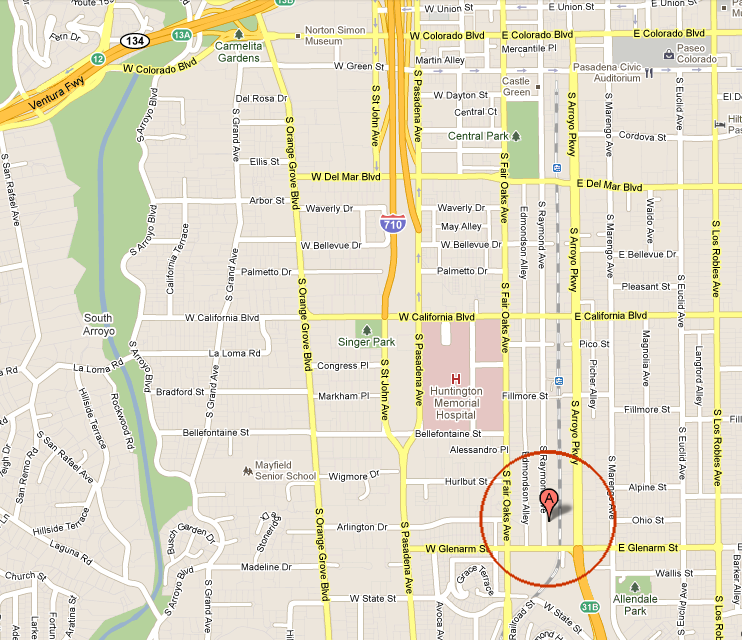 CLICK MAP FOR INTERACTIVE VERSION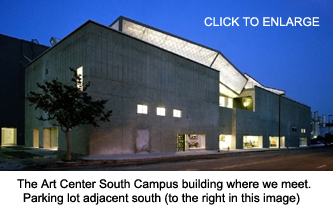 950 SOUTH RAYMOND AVENUE, PASADENA CA 91105

The campus is close to the Gold Line Filmore station; ArtCenter College runs a convenient shuttle to the hillside campus and the rail station. Here's more info on transportation.
| | | |
| --- | --- | --- |
| Last time, we had Room M3. Check back here for our 2023 room assignment. | (In the Messier Catalog, M3 is the name of a star cluster 33.9 thousand light-years away.) | |
Please be on time each week, as a courtesy to other class participants.
PAGE UPDATED 2022 MARCH 14