Basics of Interplanetary Flight


ART CENTER COLLEGE OF DESIGN PUBLIC PROGRAMS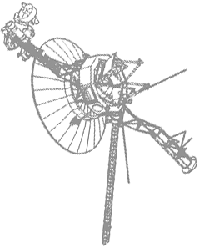 PLEASE JOIN US FOR THE 2014 SUMMER SESSION
THE ONLY PREREQUISITE IS CURIOSITY.

Here's a link to the school calendar.
Seven consecutive Thursdays 7-10 pm
Twelve participants total (age 18 min)
Map to South Campus
About the instructor
Questions? Please email Dave

Please spread the word among friends and family who are interested in planetary exploration!
Registration opens
April 2014
Once registration opens, the correct course description can be found in the online catalog. (Other times, you'll see a note that the spring and fall sessions are cancelled; that's because it's only offered during the summer terms.)
To register online, do a Keyword Search for INTERPLANETARY.

Tuition and Discounts:
Tuition is $315 (or as updated in the ArtCenter Catalog)
Discounts are offered to teachers, seniors, ACCD grads, and others:
visit this page for information.
Art Center kindly offers members of The Planetary Society a 25% discount by registering in person, bringing evidence of TPS membership (address imprint on The Planetary Report).
Texts for the course

By course instructor Dave Doody:

JPL's free online Basics of Space Flight Tutorial

Optional hardback book (Springer-Praxis 2009) written with participants of this course in mind. This textbook is part of Springer's Astronautical Engineering series, so it doesn't avoid the math. It has a full-color hardback cover, and is printed on acid-free paper: in other words, it's expensive. But well worth it!

NEW in 2012: Optional paperback book, Basics of Space Flight created from the contents of the JPL Basics website. Available in a full color edition, and a low-cost black & white edition. This book does not cover as much technical detail as the above title. It does contain good reference material, and should serve well in class. This book is produced by Amazon Print-on-Demand, and is much less expensive than the above. The entire book is also available as a PDF, free of charge, for use on some portable devices. If you'd like to download the 20 MB file, go to the JPL Basics website; you'll see the "Download" icon in the lower left corner.

Instructor's notes:
You don't have to know the first thing about space flight to participate fully in this class. All you have to be is curious about how humans are exploring the universe today, and what is being found.

If you have a web-enabled phone or other device, bring it along, it will come in handy. There's wireless internet access in the classroom, of course.

Is there a lot of Math? Many people are looking for in-depth mathematical treatment. Most, though, say they'd rather not have a lot of math. In our classroom sessions, you probably won't notice much math. But there's some set forth in my book Deep Space Craft (Springer, 2009), plus lots of references to in-depth treatment elsewhere.

--Dave
---
Comments from previous course participants
"One of the best courses I have taken in my past 8 years of college courses."

"This class offers a unique and unparalleled opportunity to explore and learn about a very exciting field of study that offers much to draw upon."

"The many ingenious demonstrations of abstract concepts was a treasure trove."

"This class really does two things: teaches the concepts, but also is a survey of how to communicate difficult material of any field."

"I was having too much fun for the course to end."
---

We live on a rare and fragile life-sustaining planet, the companion of an average star orbiting a spiral galaxy's central black hole. We have new senses, many of them originally developed for space exploration. How do these new senses work? What are they telling us? How are we affected by the ability to see and hear and "smell" in radio "light"? The infra-red? Ultra-violet? Gamma radiation?
We are encountering new worlds with our new senses. And we humans are in the extraordinary position today to be seeing some of these places up close for the first time ever, all via robot emissaries. How do you design a robot spacecraft and travel among the planets? How do you fly it and tell it what to do? What information is it sending back?
If you find these topics compelling, please join us for seven consecutive Thursday evenings at the inspiring Art Center College of Design South Campus at Raymond & Glenarm in Pasadena.
---
The course is an interactive, high-fidelity survey of disciplines and projects in today's interplanetary flight. It involves the participants in a variety of techniques, including visuals, design-based learning, hands-on physics, brainstorming, lecture, demonstrations, guest speakers, and lots more. No credit means no tests, no mandatory assignments, only a 3-hour-per-week time commitment: 7-10 p.m. Thursdays.

We generally divide each of our three-hour meetings into developing three lines of inquiry:
Grasping each of the major factors in the whole environment in which we live and in which we operate interplanetary robots (this environment can be concisely described as the space among the many companions of a dwarf star in a bubble, orbiting a supermassive black hole at the center of one of many galaxies); Understanding how such a description is obtained and interpreted.

Learning how spacecraft are put together, what all their components do, how they move and work, the paths they follow, and why;

Surveying the results; seeing and experiencing new worlds, encountering the latest and ongoing discoveries, all placed in proper context with #1 and #2 above.
---